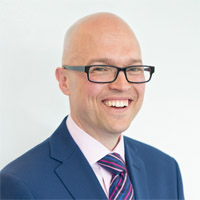 Speaker Bio: Adam is External Affairs Director at SUEZ Recycling & Recovery UK Ltd, responsible for government engagement, consultation responses and general stakeholder management. He also spends a lot of his time on technical working groups and committees on behalf of DEFRA, the ESA, FEAD, ISWA and of course the CIWM.  Adam has been in the waste & resources sector for over 25 years, initially as a local authority recycling officer with the Royal Borough of Kensington & Chelsea, and then as an academic and lecturer at Kingston University.
He spent 17 years in consultancy, with ERM, Hyder (now Arcadis) and AEA (now Ricardo) developing teams of waste and resource management specialists and delivering major support programmes on behalf of key organisations including WRAP, DEFRA and ZWS. Adam specialised in recycling service design, consultation and procurement, working with many of the sector's most innovative authorities and led major waste infrastructure procurement projects for a mix of facilities from MBT and AD to EfW.
Adam has been active internationally for much of his career, developing national, regional and city waste strategies in many places – including Russia, Mali, India, Costa Rica, Hungary and Australia – and has been an active member of ISWA since 1995, sitting on their Communications Working Group for the last 5 years.  Adam is a Chartered Waste Manager, a Fellow of the CIWM since 2007 and a former Director and Trustee of WAMITAB. He has been an active CIWM member for over 25 years, latterly as a Trustee and of course a member of the Presidential team.